BillCruseBooks
support for
Atheist | Humanist | Freethinker
Blogs, Organizations, and Podcasts
Does your Podcast
have fewer than 5,000 downloads?
If so, getting sponsors is going to be difficult.
We can help you bridge the gap.
If you do get an advertiser or sponsor
you'll probably have to settle for 6%-12% Affiliate Rates or a Cost Per Thousand (CPM) of next to nothing.
At these low levels, it just doesn't pay
- for you or for the advertiser.
(And that's a sad fact, but it is a fact.)
Earn 100% with Suzze.
No cost. No obligation.
Just do what you do best - be yourself.
How does it work?
Tell your audience about our Popular, Fictional, Atheist, Humanist, Feminist Heroine and earn 100% of our net income.
Not 6%, or 12%, but 100% of our income.
How much can you make?
Episodes 1, 2, and 3 of Suzze Osmond Ex-Christian retail on Amazon for $4.99.
Amazon's fees are 30%, or about $1.49.
Our income (your income) is 70% of $4.99 or about $3.50.
What do you have to do?
Tell your audience about Suzze Osmond Ex-Christian with a pre-roll, and/or mid-roll announcement -- or, if you have a better idea, let us know. We're open to suggestions. If you know a better way, just let us know.
We'll provide the script, or you can create your own. (Media Bank)
Yes, we prefer that your comments be heartfelt and sincere, so see if Suzze is a fit. Read excerpts or download a copy first.
How do we track the results?
We provide you with a unique Promo Code or Link just like other Podcasters use when directing traffic to a sponsor's website.
Amazon provides the reports which we provide to you.
All transactions are per Amazon's terms and conditions.
What if it doesn't work?
You stop. Nothing ventured nothing gained.
There is no cost to you.
(But we do hope that you'll give Suzze and your audience a chance, say 30 days at least.)
What if it works great and my Podcast moves a bazillion books?
Then you make $3.5 bazillion.
But let's be realistic. Suzze will not make your rich. But it should pay you more, much more than a sponsor charging you at typical CPM (cost per thousand) rates. (And definitely higher rates than typical 'revenue sharing' deals.)
The cold, hard facts of any sponsorship deal is that you must deliver hits or listeners or sales. Suzze Osmond Ex-Christian is a great way to get started.
Is Suzze a good fit for your Podcast?
You decide.
Do you have a literate audience?
Do they read fiction?
Do they like satire?
Strong female characters?
Are they Artists, Atheists, Humanists or Freethinkers?
How many downloads do you currently have?
More than 5,000? Then it's maybe, maybe not. If you have 5,000 downloads, you can probably earn about the same from an advertiser's CPM if it is more than $20. (And that's a lot.)
2,000? Suzze is your best bet if income and establishing a track record for your ability to engage an audience is your goal. (That means, Can you sell? And if you can't 'engage' your audience, advertisers will surely look elsewhere. Suzze is an ideal place to create a track record with documented performance.)
Fewer than 1,000? Suzze might be the best income generator you're likely to find.
500? Really. Get serious,

what are you waiting for?
Ask yourself this:
What could be easier to sell than an episodic adventure starring a former televangelist who runs around half-naked and barefoot looking for God --- and -- He's afraid she's going to find Him?
   There's a talking commode with a philosophical bent.
   The sky is full of nanobugs.
   India is ready to invade.
   eJesus is terrorizing children.
   And the J-Man himself? Well, he can't quite seem to get his act together.
It's Funny.
It's Perverse.
It's Magical.
And it only costs 5 Bucks!
What's not to love?
Hey, one final thought.
Suzze might not be right for you. That's okay. But how about passing this along to someone you know? Another Podcaster who's just getting started and looking for support?
Thanks!
And best wishes on your venture.
Bill
Amazon Verified Purchase
Entertaining, satirical view of religion, politics and life.
... Fans of George Carlin and Bill Maher
might feel quite at home with the language. ... Not for the faint of heart, this story will force some readers
to examine the basis of their belief structure.
Love the humor,
love the cleverness, love the developing story,
love the War on Christianity theme.
Amazon Verified Purchase
I absolutely love reading Suzze's story.
She's so full of sass and I love to think of her character evolving from this Pastor's wife, always pretty and perfect facade to this take no bull, uncensored broad that just doesn't want to have to answer to anyone. Such a satisfying read. It is relevant and perverse. There are moments that make you go "what the ???" and there are times where you have to say, "man, I wish." This book is just what I need when I feel like the only person in the world who is challenging the religious right. I hope this book takes off and brings the genre with it.
I'm so glad to read some fiction that finally satisfies the humanist reader in opposition of religion.
It gets more magical with every chapter
...takes magical realism as a genre and expresses Christianity in the same terms.
Amazon Reader
A superbly written story
. . . Entertaining, thought-provoking, captivating and mystical
Amazon Reader
A good throw back to the 60's and 70's
... a fun read which makes you think you are back in time reading a Tom Robbins book.

Amazon Verified Purchase
Awesome surprise within these pages,
leaves you wanting more. ...The writing style of this book is definitely on par with the style of a favorite author of mine, Chuck Palahniuk of Fight Club and Choke fame. I have a particular distaste for televangelists, and receive a sick pleasure from the role they've undertaken in this story. I cannot wait to see how the rest of this story unfolds.
Amazon Reader
Tom Robbins meets Bill Maher in anti-religion comedy romp.
This is the work of smart writers who have done their homework in crafting zippy dialog and a fast-paced narrative in a complex, layered plot. They evoke a Tom Robbin's happy snideness in offbeat characters. Just in Episode One, I was entertained by many an imaginative, surprising scene and plot point.
Amazon Reader
Slow down, enjoy the journey.
... somewhere along the way, Susie grabbed me. Perhaps it was her final angry confrontation with her toilet butler or Mathew, her angelic mini me statue...I don't know, but somewhere, Susie's delusions, her cynical but realistic assessment of her predicament, her gritty realization that all she wanted was to be home setting on a park bench, with or without disciples at her feet...it all suddenly became a story that I need to see to the end.
Artful, cynical good fun.
Could this silly bit of fluff and puff,
this slap-stick comedy serve up and address real moral and ethical questions and then honestly and cleverly answer them? . . . hints of Voltaire and Vidal, Tom Robbins and Tom Wolfe.
I say give it a try.
What a way to bring "the sign" to the masses.
Has to be one of the most imaginative interpretations ever.
Bold and in-your-face, but very effective.

Not for Scaredy-Cat Christians
I was told, "This will challenge your faith." No it won't. Nor has it. This thing takes Christianity and does everything it can to belittle it, and demean it, and trash it, but nothing can trash the glory of Jesus.

Bowel Movements? Seriously?
Hapless, witless, evangelist bimbo Suzze Osmond sees her world explode and hits the road, only to discover that whatever it is that's after her (God?) won't leave her alone. Written more like a TV episode than a conventional novel, she bounces from one conflict to the other each interrupted by her need to move her bowels, a relief that rarely comes. Somehow it all works.


Move Over Jesus is an atheist fairy-tale
that pays homage to Voltaire and Vidal, Christopher Hitchens and Richard Dawkins, Jon Stewart and Jon Oliver, Bill Maher and all the others of their militant atheist ilk. No doubt, it falls short of their greatness. Far short. Regardless, it is a first rate speculative satire (Probably written for TV, unsellable and repackaged here, is my guess), dark, disturbing, urban, fun to read, pure escapist pap. But I defy you not to love Suzze Osmond, a heroine for our times.


As a Christian, I'm tired of my faith being challenged
...all churches suffer from charlatans and liars and cheats
... don't need for my faith to be challenged It is
vile, filthy and dirty
and I don't want to read about it.

Love to Hate Religion?
Move Over Jesus is old school satire meets modern day quest. Think Gulliver's Travels meets Lord of the Rings with a little Breaking Bad thrown in to contemporize it. On the surface, it's an easy read, fast-paced, fun, but will it appeal to those who do not or cannot read between the lines for
a thousand nuances and allusions?
Hard to say.
Synopsis | Cover Blurb
Televangelist Suzze Osmond
is on the run.
She is half naked.
And barefoot.
And she's looking for God.
Let's pray she doesn't find him.
Superstar televangelist Suzze Osmond has fallen from grace.
Gone down market.
Big time.
Nothing sexual.
Nor financial.
None of the usual foibles that befall the high and mighty when they crash and burn. Coming down is a bitch and as best she can figure, God himself is out to get her. For a while, she's content to hide out in her empty mansion with only a disapproving angel and an argumentative commode for company. But the answers to what happened, and why, are on the outside.Thus begins Suzze's quest as she treks, half naked and barefoot across recession-racked America, squatting behind dumpsters and slinking down deserted streets, hanging out in paradise and motivating the multitudes – all while struggling to keep her irritable bowel syndrome at bay.
Dedication
To Shirley, mentor and contributor.
To the memory of Christopher Hitchens,
a single voice among many
but the most exuberant voice of all.
What is hateful to you, do not do to your fellow man.
Hillel the Elder (c 110 BCE - 10 CE)
As it will be in the future, it was at the birth of Man,
There are only four things certain since Social Progress began.
That the Dog returns to his Vomit,
And the Sow returns to her Mire,
The Whore to her Bed,
And the burnt Fool's bandaged finger
goes wabbling back to the Fire.
Rudyard Kipling, from Proverbs 26:11
Chapter One
| Gotta Go
SUZZE OSMOND PAUSED TO EXAMINE THE SCRATCHES her broken fingernails were making in the soft leather of the Barcalounger she was dragging to the curb.
She stuck her index finger in her mouth, chewed off the offending burr, rolled it across her tongue, and spit it out.
Back to work.
Two steps and slide.
Two steps and slide.
She backed the recliner down the hill, her bare feet biting into the faux cobblestones of her textured driveway, which emptied into Buttermilk Road, which, in turn, wound and curved past dozens of other driveways just like hers in this most exclusive of exclusive neighborhoods on the south end of Aspen, Colorado.
Two steps and slide.
Two steps and slide.
Halfway there, she paused again to look down at the hundred or so people on the other side of the wrought iron security gate who edged forward when they saw her reappear.
Two steps and slide.
Two steps and slide.
The chair was heavy.
She was tired.
She repeated the cadence in her head, two steps and slide, two steps and slide, until she reached the bottom of the hill.
She stopped a few feet short of the gate to catch her breath, closing her eyes and resting her head against the back of the chair, letting her fingers trace the ridges and scrolls of a logo, her logo, a big, ornate S, all swirls and twirls and curlicues in blue and pink and lavender embroidered into the cream-colored leather.
A few seconds later, as if on cue, a slow crescendo began to arise from the other side, Sooz-zee, Sooz-zee, Sooz-zee.
Suzze opened her eyes, raised her head and looked over the crowd.
"Hey Suzze Woozy," someone called out as she punched in the security code.
"Cutie Pootie," another one chimed in.
The price of fame.
Word was out.
There was shit to be had.
But unlike the piles of junk in front of the foreclosures all over town, this was coming out in dribs and drabs, one piece at a time.
Mostly it was good stuff. High dollar stuff.
The Aspen Times, resorting to sensational headlines to prop up their declining circulation, blasted 'Who The F**k Throws Away A Bentley!' across the top of Page One in 120 point sans serif extra-bold. Nice car. On the curb. Keys in the ignition. Gone in 60 seconds.
But as valuable as most of the stuff was, the crowd camped outside the gate and spilling onto the road were there as much for the entertainment as they were for the booty. It was a picnic. A party. A family affair. Simple insanity played out in real time for the world to see.
Indie journalists from around the world sat in front of green screens pretending to be live and on the scene, spouting social commentary in a dozen different languages.
Local television chose the most derelict from the crowd for the 6 o'clock news, encouraging each one to hold up his or her favorite piece of Suzze memorabilia, a treasure to be sure.
'Suzze Takes A Dump' along with a hundred tasteless variations headlined a hundred different blogs, each trying to create the most controversy over America's newest celebrity refugee. Controversy meant page views. Page views meant ads. Ads meant money, maybe only a penny a pop but it was a living for the stuck-at-homes – sort of.
Suzze had gone viral.
Trending again.
Tweeted back to life after a mysterious absence during which she was reported to have had a near-death experience.
As with every tragedy, Internet marketing opportunities were born.
There was a box of camels. Stuffed camels. Porcelain camels. Squeaky camel toys. Cute little camel keychains. One hump. Two humps. Hundreds of them. No Kewpie dolls. No Teddy bears. No Beanie Babies. Just camels. A fat guy with greasy hair snatched them up and advertised them on Craigslist, each with its very own Certificate of Authenticity which he downloaded from a clip art site. The way he figured it, he could pay off his credit cards. Or not.
But wait, there's more.
A sixteen-year-old girl living with her unemployed family in a flophouse motel outside of Orlando started selling embroidered Suzze bathrobes, pointing that the sash must be missing for the robe to be genuine, which hers, and only hers, were. She registered the name suzzewear.com and had her website up and running the same day. The girl, Sarah Gonzales was her name, hooked up with a guy in India named Patel to source the goods and embroider the breast pocket logo. $39.95 a pop. Three easy payments. Another global business born, everything outsourced and offshored. The girl made $11.57 on every transaction direct to her PayPal account, running it all from a computer at the public library. Zero investment. Zero overhead. Damn, why didn't I think of that? a million jealous people whined.
Then there were the Thomas Kinkade paintings, dozens of them tossed in a pile on the curb outside the gate. At first, no one wanted them, didn't know what they were. A couple of desperate housewives rifled through them and ripped the canvases out of eight of the frames to make placemats like they saw on the Katie Brown Workshop. Finally, someone Googled thomas + kinkade and figured out the paintings were actually worth something, which caused a fist fight and even more broken frames and ripped canvases. Those that survived appeared on eBay a few hours later. Jackpot!
With the publicity came the publicity seekers.
Starting with TMZ. The stuff didn't matter to them. All they wanted was a picture of her pussy. Correspondents on site. Stay tuned. Only a matter of time.
Of course, there was a mime. Of course, he wore a bathrobe with no sash. Of course, he wore a frizzy blond wig and fake boobs. He swished and swirled and pretended to drag imaginary furniture and shove it out of an imaginary gate, pretending to pepper spray anyone who pretended to get too close. When the audience grew bored with that he sat on an imaginary toilet and made funny faces.
No doubt, it was the juggler the crowd liked best, especially the kids. Frying pans, pepper grinders, whips, paddles, dog collars, he could juggle it all, five at a time.
A bible thumping preacher, shirt sweated wet, alcohol on his breath, summoned fire and brimstone down upon them all until someone flicked a Wüsthof paring knife dead center in the 'o' of his Holy Bible. Incensed, the preacher pounded his fist higher still, calling for the wrath of God to avenge the injustice. A kid pulled a pink Taser from his pillowcase full of Suzze collectibles, shot the preacher in the ass and turned up the juice as they all watched him slobber and jitterbug on the ground.
When the preacher came to, he stumbled down the road, the wires still pinned to his rear end, the Taser bouncing along behind like a tin can tied to a dog's tail.
"Oh my God, Oh my God, Oh my God," he moaned.
The kid who shot him cupped his hands and yelled, "Hey asshole. That's OMG, OMG, OMG."
"LOL," his buddy hollered after him.
As they laughed and jeered, an old man sitting cross-legged on the ground in the middle of the bunch reached over, pulled the knife from the bible and put both under his raincoat, unnoticed by anyone.
Suzze was used to crowds, knew how to play them.
She smiled along with the self-righteous women who felt sorry for her matted hair and humiliation and nodded to the sad old men who dreamed of getting her into the rack.
The teenage boys were the most annoying of all, snapping away with their iPhones and assorted digital devices. Her clinically perfect breasts had already been splashed across the blogosphere. Good money, but not great money. They were after bigger game, a high def jpeg of Suzze's Velcro. It was rumored that her vajayjay was vajazzled, with Christ himself dangling from her Holy of Holies. All they had to do was get to it before TMZ. One of them, sensing an opportunity about to be lost and willing to risk electrocution poked his arm through the rungs of the iron gate and between her legs with the camera resting upward in his palm.
Click. He had it.
But as he lay on his back examining his catch in the preview screen, all he saw was a dark blur with a glint of gold in the middle. Worth a try. Maybe he could Photoshop it.
Suzze Osmond had lived all of her adult life in front of cameras and learned long ago how to show what she wanted to show and how not to show what she did not want them to see. Sorry boys, no crotch shots today.
Time to get on with it.
It was a routine that had taken some practice. She slipped on her electrician's gloves, grabbed the back of the recliner and swung it around, then cracked the electrified gate just enough to squeeze the chair through, grunted and gave it one last shove before snapping the gate shut again, as she had been doing, box by box, piece by piece, for almost a week.
Early on, a few unhinged souls had in mind to charge the gate those few seconds after it was opened, when Suzze still had her hands full. She gave the first two or three rows an introductory pepper spray until they realized there was no need to steal the shit when the shit comes to you. They behaved after that.
Suzze looked them over, her uninvited yard party. She wouldn't miss them. Not a single one.
She slipped off the heavy rubber gloves and re-entered the security code.
That was it.
The last piece.
No more chairs.
No more cars.
No more appliances.
No more shoes, evening gowns, designer cookware, artwork, flatscreens, memorabilia, or bric-a-brac.
Nothing left.
Over.
Done.
Mission accomplished.
As Suzze stood there congratulating herself, a ragged woman jumped up, plopped down in the recliner, crossed her arms and leaned back, smiling, claiming it as her own.
Just as quickly, two burly Mexicans lifted the chair with her in it onto the back of a rusted out F-150 Longbed. The woman was grinning ear to ear with her arms still crossed in defiance when the biggest of the two grabbed her by the scruff of the neck, yanked her off the truck and through the air, tossing her back onto the pavement where she had been sitting just a minute before.
Suzze watched from the other side of the gate as the chair on the back of the truck wound down the road, around the curve and over the hill, her logo fading out of sight.
As it disappeared, forever she thought, she felt a queasiness deep in her belly, an urgent, loose, liquid softness.
It was a long trot back up the hill.
She hoped she could make it in time.
Suzze won't make you rich.
But Suzze can help get you started.
Still undecided?
Read 12 Key Scenes
Decide for yourself in 30 mins or less
Instant Download, No Double Optin
What do you think?
Wouldn't Suzze make a great Netflix Original Series?
(And an ideal match for your Podcast?)
Questions? Comments?
Let's Get Started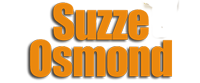 Funny. Perverse. Magical.

Don't forget to tell a friend.
© Copyright 2017 William Cruse
All Rights Reserved
Suzze Branding and Website by LeRoy Leonard